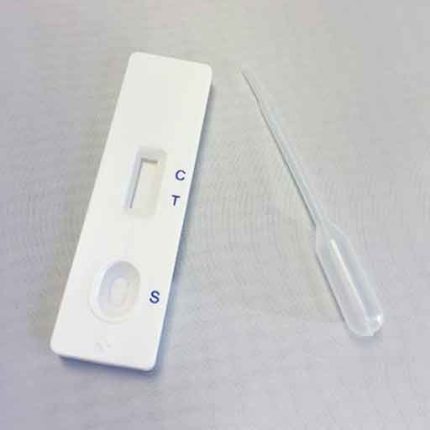 Directions for use:
Remove the test device from its foil wrapper by tearing along the slice.
Using the specimen dropper, withdraw urine sample from the specimen cup and slowly dispense three drops (approx 120 UI) into the circular sample well.
Be careful not to overfill the absorbent pad.
Read results after 5 minutes.
DO NOT INTERPRET RESULTS AFTER 10 MINUTES
Precautions:
For medical and other professional in vitro diagnostic use only.
Do not use after expiration date.
The test device should remain in the sealed pouch until use.
The test is for single use only. Do not reuse.
Wearing gloves is recommended.
Storage and Stability:
Store as packaged in the sealed pouch at anywhere between 2-30° (36-46°F).
The test is stable through to the expiration date printed on the sealed pouch.
The test must remain in the pouch until use.
Do not freeze.
Do not use beyond the expiration date.
Results:
Positive: One colour line appears in the control region. No line appears in the test region.
Negative: Two lines appear; one colour line in the control region, and another apparent colour line in the test region.
Invalid: Control line fails to appear.